News
September 2021: In Memory of Gerd Müller
The ASKMSC commemorates Gerd Müller, who inspired and motivated generations with his footballing skills. His visit to our project in 2009 was a highlight for our football-loving children and young people.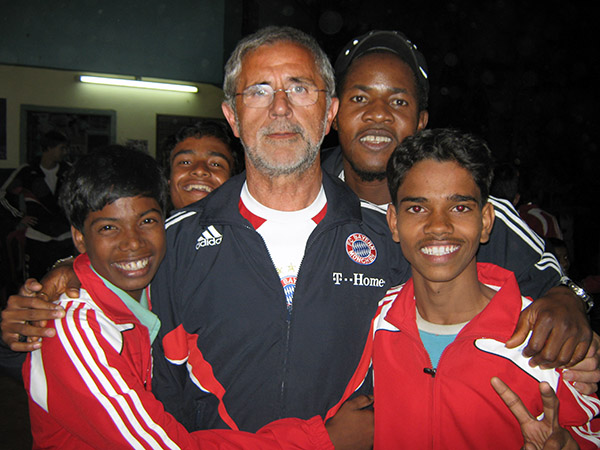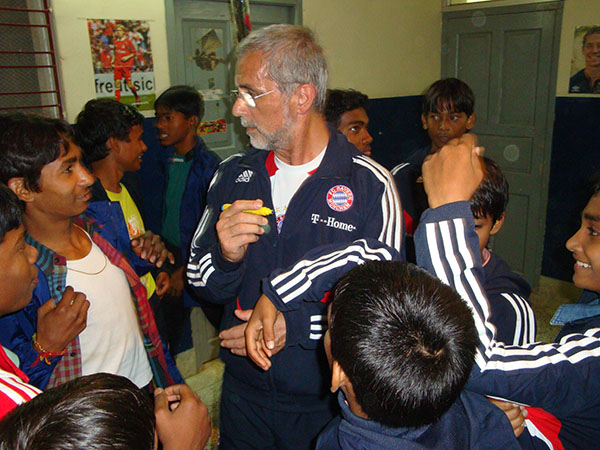 Happy Birthday 2018
Look at this decoration! Our boys worked hard to make their birthday party a very special one. There were sport matches, a treasure hunt and a cheerfull show programm on stage.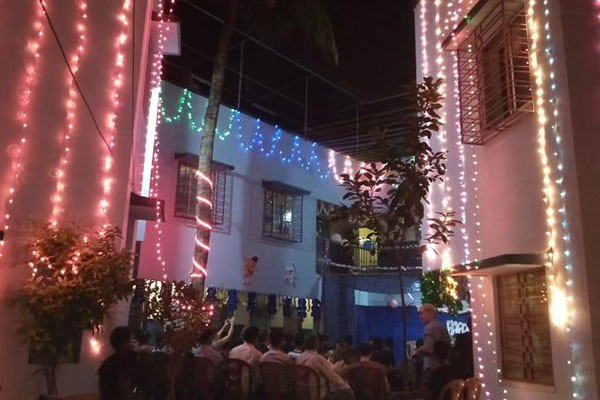 March 2018 - Holi
The colourfull celebration of Holi.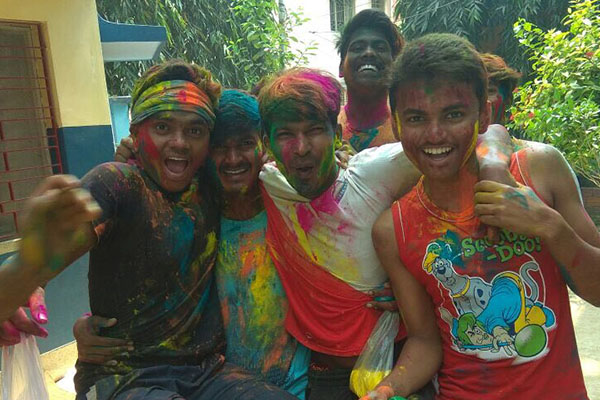 November 19th 2017 – 17th Happy Birthday
17th birthday celebrations of ASKMSC including a football turnament and a great party!
August 27th 2017 - FC Kolkata wins `Bradley Lowery Cup 2017´
The team of FC Kolkata win the `Bradley Lowery Cup 2017´ at the football ground of Newtown School in Kolkata. Our Team showed a great performance and won out over 30 other teams.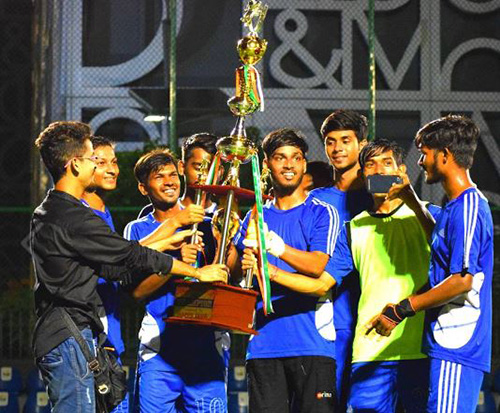 November 19th 2016 – 16th Happy Birthday!
ASKMSC celebrated its 16th anniversary and the birthday of all boys. Some of them came of age! It was a great day with good food - chilli chicken and a huge birthday cake!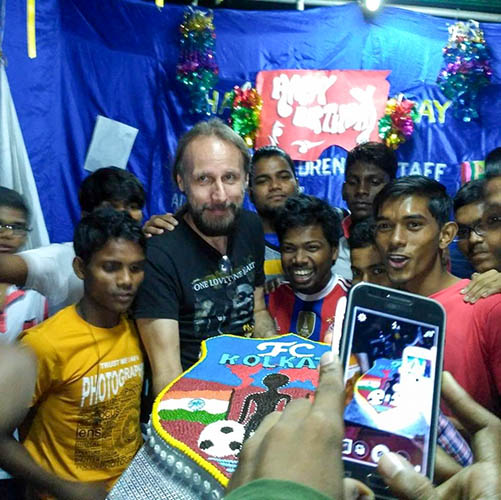 March 2015 - FC Kolkata wins the German Consulate Cup 2015
This calls for a celebration! Our Boys from FC Kolkata win the German Consulate Cup 2015 held by the German Consulate General Kolkata. Our Team showed an amazing performance!
Well done boys - we are proud of you!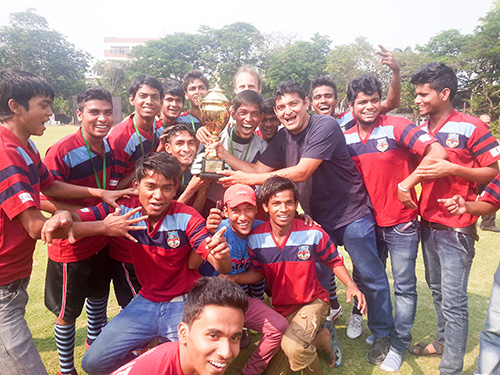 Link to: German Consulate General Kolkata
We mourn for Pranab Kr. Das – the secretary of ASKMSC
Despite all the efforts of doctors, relatives and Wolfgang Müller, our secretary Pranab Kr. Das died in June this year. His serious cancer could not be cured. His good and friendly nature and his absolute commitment for our project will be irreplaceable.
Pranab we miss you!
* October 11th 1975 † June 23rd 2014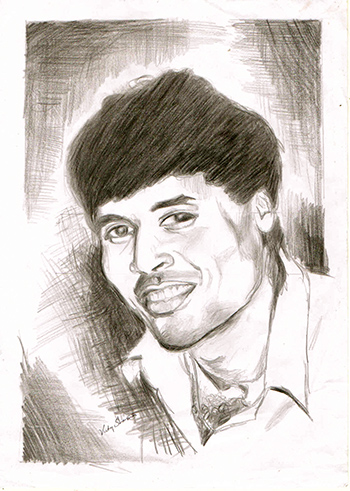 July 2013 - Our Secretary Pranab Kr. Das visits the German partner organisation ali sk e.V.
The Secretary of our society Pranab Kr. Das got a sponsored invitation from members of our German sister charity and partner Aktion Lebenshilfe fur Indiens Strassenkinder e.V. (ali sk e, V.). He took part in the annual summer gathering of ali sk e.V. in Germany and visited members of the German society in different cities such as Wurzburg, Augsburg, Frankfurt and Hamburg as well as Zurich, Switzerland. He also visited members of the Italian organisation Sudtiroler Arzte fur die Dritte Welt ONLUS in Italy.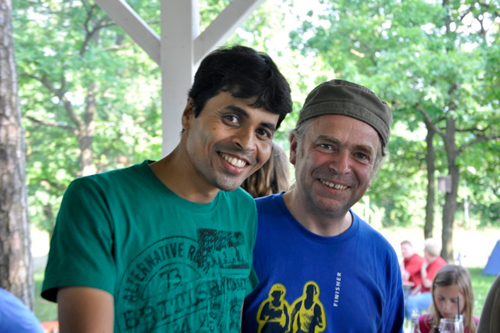 May 2013 – Our Graduates!
These six boys of the ASKMSC proudly holding up their report cards have successfully passed their Class X Board Exams in Apollos Academy and graduated from school. Another boy passed his Class X exams in Himali Boarding School with excellent results! While he continues to be sponsored by Himali Boarding School for his Higher Secondary education the other six took admission in Indira Gandhi Memorial School for their higher studies.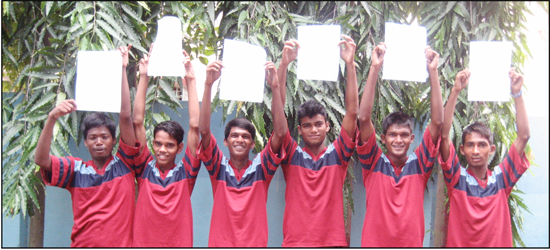 April 2013 - FC Bern meets FC Kolkata
Christoph Gobeli, Football Ambassador for India of FC Bern (Switzerland) visits the ASKMSC during his stay in Kolkata. He regularly practices with our teams of FC Kolkata. We also say thank you for a bunch of soccer shoes and gloves for our goal keepers as a donation by the junior team of FC Bern.

For more Information see the website of FC Kolkata fc-kolkata.org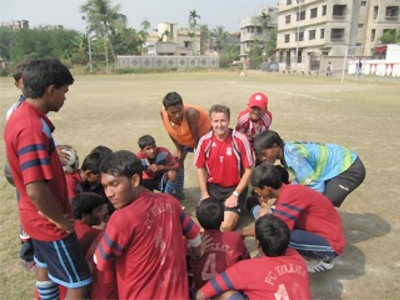 November 19th 2012 – 12th Happy Birthday!
12th birthday celebrations of ASKMSC including performances of drama, dance, tabla- and guitar music.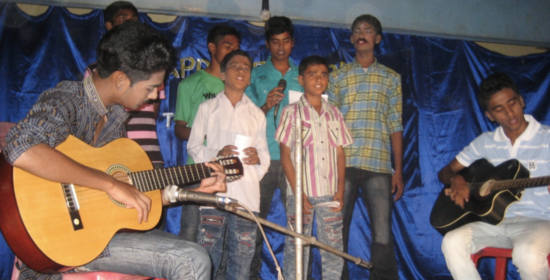 May 15th 2011 - ASKMSC "goes solar"
From now on our project uses solar panels to produce green energy. Not only are we able to reduce our electricity costs this way, but we can also teach our children the principals of ecology and sustainable energy production.


April 22th 2011 - 'World Earth Day' in ASKMSC
On the occasion of World Earth Day we tried to make our boys think about the future of our Mother Earth and the impact of Global Warming. A drawing contest on this topic was organised and in this video Somnath Maity and other 'helpers' guide us through the exhibition...




February 7th-9th 2011 - ASKMSC on a boat trip in the Sundarbans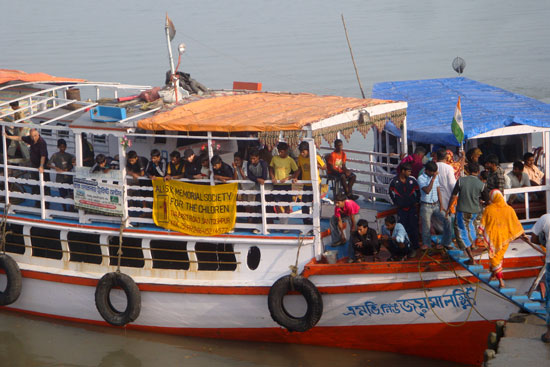 January 21th-26th 2011 - Summer Vacation & Football-Camp in Puri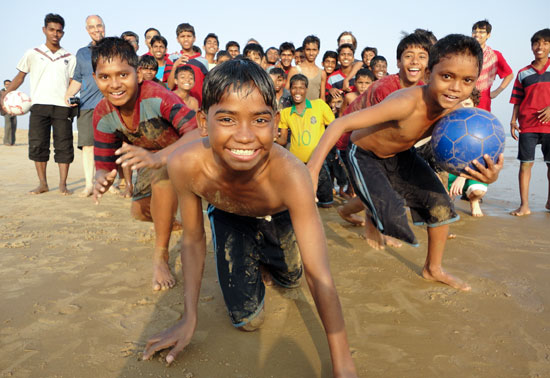 November 19th 2010 - Happy Birthday ASKMSC!
On this day the "Ali S. K. Memorial Society for the Children" celebrated its 10th anniversary and the birthday of all kids. Ten years ago the first 10 boys had moved into their new home in Santoshpur. Today 41 children live here. During the celebration the annual football tournament was held and we organised an evening program with quiz and entertainment. Many friends and guests were invited and had a great time!